This year SIRF is going green! We want you to reuse, recycle and create joyful creations from junk! This year our carnival theme is 'Junk for Joy' and we need you to get on board and help us to turn the drab into fab!
To take part, download and print the template below and use this to draw your own fantastical junk creations. Or download the template and use a computer or tablet to draw your design. It could be a robot, creature, dancer, dreamer - it's up to you! So put on your thinking caps, grab a pen and share with us a joyful junk creation.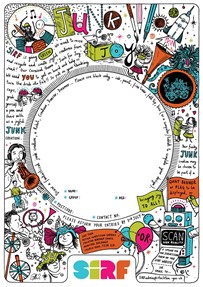 The deadline for entries is Friday 3rd July 2020.
The winner of this competition will see their design used across future SIRF materials.
Send your completed design to;
SIRF Team
Design Competition
Stockton-on-Tees Borough Council
Municipal Buildings
Church Road
Stockton-on-Tees
TS18 1LD
or email a high quality scan of your drawing to SIRFadmin@stockton.gov.uk
Or upload and send using the form below.
RATE THIS PAGE
AVERAGE PAGE RATING IS:
YOUR RATING